Scccchhhh ... please a little quieter!
Concentrated work in open-plan offices is often very difficult due to the increased background noise. In addition, there are larger rooms, smooth concrete walls and exposed ceilings, which leads to a growing need for acoustic improvements. With our moss room dividers, we ensure that you can concentrate better and work more productively again.
Room dividers made of moss - sustainable, flexible & stylish
Conference rooms and entrance areas often appear cool and empty due to their size and width. With room dividers made of moss you can also create calm and harmony in these areas.

In addition, many people often meet in these rooms. Here it is all the more important to ensure professional hygiene protection. With our room dividers, optionally also mobile, made of various mosses, you can implement your hygiene concept in an optimal and stylish way.
In addition, you wonderfully improve the room acoustics with an unmistakable natural character.

In addition, there are no maintenance activities such as watering and dusting, as the plants and mosses are made durable in a natural preservation process and thus not only retain their natural appearance, but are also antistatic. This is particularly beneficial for allergy sufferers

Our room dividers are available in different sizes and of course with a wide variety of greenery options:


200 x 120 cm
170 x 80 cm
160 x 120 cm
150 x 100 cm

Our room dividers are currently available in the colors white and natural! We would be happy to produce your room divider in a different color! Talk to us and use our contact form!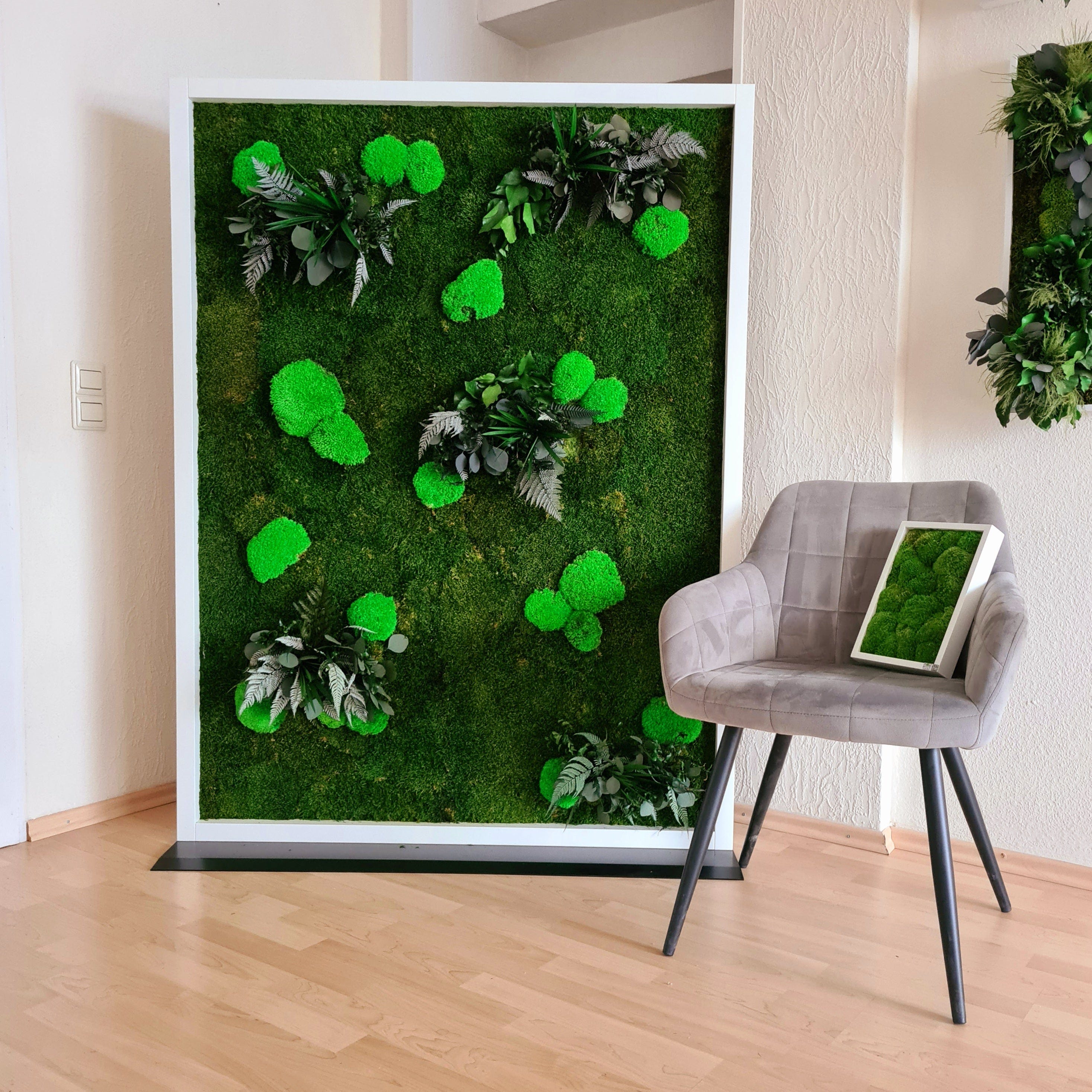 Forest and pole moss
The combination of forest and pole moss is ideal for wall and ceiling greening, but special shapes and logo integrations can also be easily implemented. The design can be selective (approx. 80% / 20% flat moss / pole moss) as well as in the course (approx. 50% / 50% flat moss / pole moss).
Polemoss
Pole moss walls impress with a unique 3D effect and the soft feel of the pole moss and are particularly effective in puristic surroundings. Logos and / or slogans can also be integrated here.
Plant islands
Plant islands made of ferns, eucalyptus and other naturally preserved plants form visual highlights on a forest moss surface with individual pole moss accents. Get that jungle feeling at home, in the office or in your reception area.
Reindeer moss
Because of its wide range of colors (8 color variants), reindeer moss is particularly suitable for very complex designs.
In addition, the sound insulation is highest here and up to 60% of the sound is absorbed. It is therefore ideally suited for rooms with an increased noise level. It also has a moisture-regulating effect and is therefore also suitable for interiors with higher levels of humidity such as wellness or spa areas.
Do you need support with the implementation of your moss wall or project or do you need an idea?
We would be happy to advise you!
Use our contact form or contact us by phone on +49 (0) 176 811 06 427 - we look forward to your message or your call!